What awaits you in the cooking course - La Cucina Italiana
Come experience home style rustic Italian food which takes you back to the villages of Italy. In this class, Chef Natasha Celmi shares her family recipes from southern Italy while giving you a little taste of the rest of Italy as well. All the food is made traditional style from scratch using seasonal fresh produce. Enjoy an evening of slow cooking with amore, Italian music and of course, some amazing food.
Start off with an antipasti spread of various types of crostini, baked eggplant stacks and broccoli fritters. Feel like a true "pizzaoilo" tossing some Naploi style Pizza Puttanesca and pizza bianca and then eating them hot out of the oven! Get your hands dirty while rolling some fresh gnocchi Sorrento style. Learn my family recipe of the best pomodoro sauce made from scratch with fresh tomatoes. We get a taste of the north with some baked polenta topped with an earthy mushroom and red wine sauce and a seasonal vegetable risotto. And finally, this decadent feast is finished with a vanilla pannacotta and seasonal berries coulis. A presto! 
The course will be in English and some translation can be done among the guests if required.
Classic Bruschetta
Red pepper pesto & zucchini crostini
Napolitano eggplants, capers & cashew cream stacks 
Nonna's zucchini polpette (fritters) 
Pesto Genovese 
Pizza puttanesca
Pizza Bianca with spinach
Napoletano baked eggplant stacks
Seasonal vegetable risotto
Hand rolled gnocchi alla Sorrentina
Fresh tomato sauce 
Naples style pasta with creamy cannelloni beans & capers
North Italian baked polenta squares
Mixed mushrooms & red wine sauce
Fennel, pear and rucola salad  
Vanilla pannacotta with seasonal berries coulis.
Please note that the dishes in the evening may vary depending on the season, availability and number of participants. The cooking class takes place in groups of 10-16 people. 
price pro person: € 85,-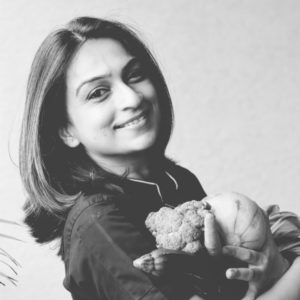 Natasha is a chef, food writer and cookbook author. She lives between Germany and Rome and has trained in Italian cooking schools. While she is Indian her husband is from Naples, Italy and she has learnt traditional recipe from her husband's family. Natasha has done many Italian dinners and cooking classes around Asia and is now in Hamburg.
Natasha has an active online presence via YouTube and Instagram @natashacelmi. Her award winning cookbook on global vegetarian cooking- Fast Fresh Flavourful has been very successful and her next book is about the Italian and Mediterranean kitchen.