East meets West - cooking course!

What awaits you in the cooking course - Eats meets West
The East Meets West series combines the best of both worlds. In this cooking class, Chef Natasha Celmi brings her Indian heritage and combines it with European cooking techniques and classics to create innovative modern dishes. The world has become so small and you will experience this through a medley of global flavors and tastes. 
Mediterranean salads come to life with a touch of fennel seeds and German brussel sprouts meet South Indian flavors of coconut, mustard seeds and curry leaves. Indian naan breads turn into delicious pizza bases and Italian pesto gets an Asian twist with fresh coriander. Enjoy vibrant vegetables and vegan proteins enriched with aromatic spices and Indian condiments while learning how to use them at home as well. You will also learn how to plate and present in style. Finish your meal with a delicate cardamom chai pannacotta which will leave your tastebuds dancing.
 The course will be in English and some translation can be done among the guests if required. 
However, food has no language and the course is very visual.
Roasted aubergine disks, curried yogurt, pomegranates
Spiced carrot & peanut dip

Tandoori tofu lettuce wraps

Chickpea, orange & arugula salad, date & fennel seed dressing


Pantossed brussel sprouts, mustard seeds, fried curry leaves


Hand rolled naan breads topped with coriander cashew pesto & roasted cherry tomatoes


Mushroom pilaf rice, balsamic caramelized oniona
Spinach kofta dumplings, tomato coconut gravy, garlic chilli oil

South Indian Potatoes 
Five Spice Stir Fried Pumpkin (seasonal) 
Black Lentil Curry
Spiced chai panna cotta
Please note that the dishes in the evening may vary depending on the season, availability and number of participants. The cooking class takes place in groups of 10-16 people. 
price pro person: € 85,-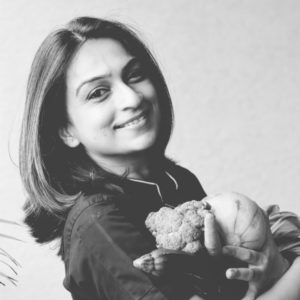 Natasha is an Indian chef, food writer and food stylist who lives between India, Italy and Hamburg. She has been conducting cooking classes in India and Singapore for many years and is now here at Kurkuma Kochschule.
Her unique culinary style combines traditional eastern spices and flavor elements with popular western dishes. Natasha has an active online presence teaching cooking via YouTube, Instagram and her food blog. Her award winning cookbook on global vegetarian cooking – Fast Fresh Flavorful has been very successful.